Luka Jovic, Ante Rebic & Sebastien Haller: Frankfurt's formidable goalbrokers
autty
2018-11-15 01:41:03
评论
"We have chemistry on the pitch," says Luka Jovic to explain how he, Sebastien Haller and Ante Rebic have been getting top marks this season for Eintracht Frankfurt.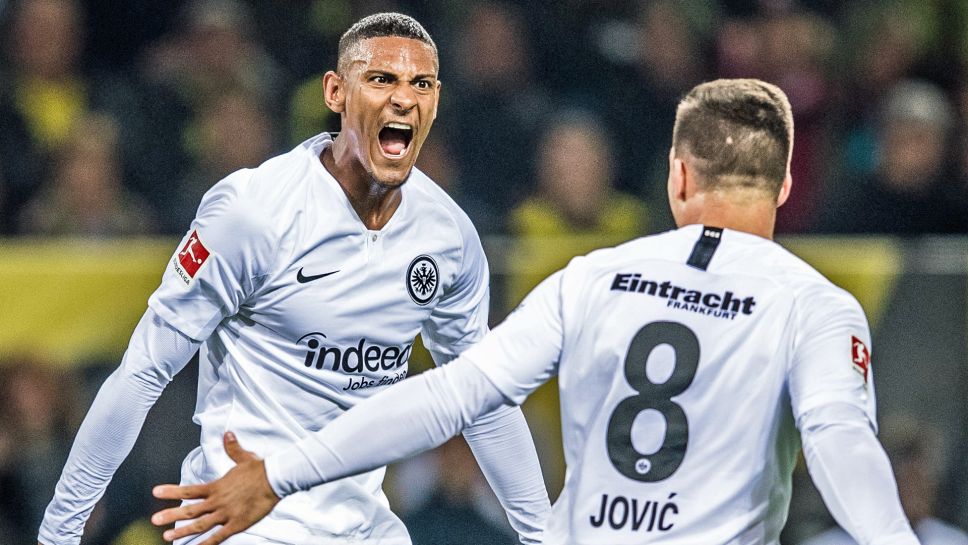 They clearly have geography as they all know where the goal is, physics too because they sometimes score goals that defy gravity. If they keep scoring at their current rate, the only problem might be mathematics…
Along with Frenchman Haller and Croatian FIFA World Cup runner-up Rebic, Jovic — a Serb — has formed one of the most potent strikeforces in the Bundesliga this season, marking quite a change for a side that relied for so long on Alex Meier for goals, and struck just 45 in the whole of the last Bundesliga campaign.
Watch: Frankfurt's front three take apart Schalke
Only league leaders Borussia Dortmund have scored more than the club record 26 times Frankfurt have bulged opponents' nets this season; 20 of those goals have come from the boots or head of their three forwards.
Add in their assists for other teammates, and only two of the Eagles' goals in 2018/19 have not involved one of their three in-form forwards. In a league where a magisches Dreieck - a magical triangle - has a long and celebrated history, have Frankfurt found themselves three ambitious and talented goalbrokers able to bring netloads of football's most precious commodity to Germany's financial capital?
Five-star Jovic
There is little doubt that Jovic's stock has risen most sharply in recent weeks. Not that he was an entirely unknown quantity. In just nine league starts last season, the 20-year-old scored eight times, as well as highlight-reel backheel winner against Schalke in the DFB Cup semi-final.
This season, though, he has stepped up a level or three. You could even say 'five', the same as the amount of goals he netted — only the third foreign-born Bundesliga player ever to do so — in a single-handed goal glut against Düsseldorf on Matchday 8. That haul has helped him to a league-high nine goals come the November international break.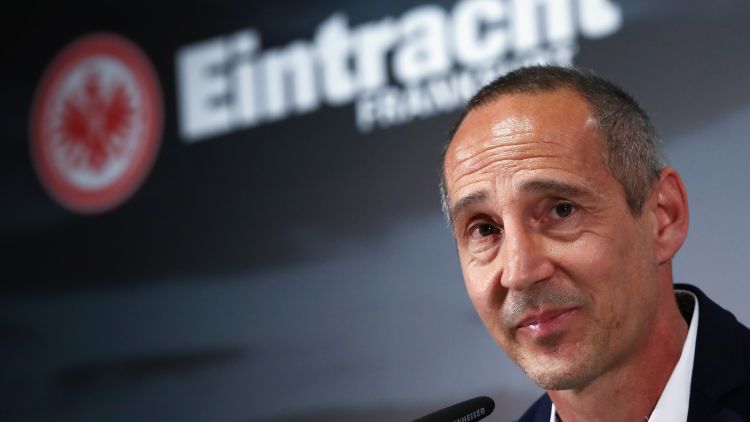 "There are players who need relatively few scoring chances," Frankfurt coach Adi Hütter said recently. "Luka Jovic, for example, scores four times out of every five chances because he's a poacher and, when he's in the box, he knows where the goal is."
Hütter: 'Jovic could be world class'
Which brings us back to geography, and — according to Hütter — Jovic has the world at his feet. "You always have to be careful with superlatives," said the Austrian before his enthusiasm means he ignores his own advice. "But for me he has the potential to become a world-class striker."
Jovic, for his part, credits Hütter with giving his forwards "the freedom to show our quality on the pitch", and the former Young Boys boss has been handsomely rewarded for taking the leash off his men.
His team are one of just four clubs to have scored in every league game so far, and though Jovic's individual exploits have understandably caught the eye, the argument could be made that Haller is, in fact, the main reason for the Eagles' new-found formidable face in front of goal.
Almost unknown in his native country, the French forward's self-imposed exile to the Netherlands, and more specifically a goal-every-other-game ratio with Utrecht was what directed Frankfurt's gaze in his direction before they signed him in summer 2017.
Kovac hails 'bulldozer' Haller
Given he is a linebacker-esque 6'3", it is a surprise Haller managed to fly under the radar at all, though while his physical size may lead to him being pigeon-holed, there is so much more to this Eagle. Though former Frankfurt boss and current Bayern Munich coach Niko Kovac claims "A bulldozer couldn't knock him over!", you just need to watch in awe as he strikes his stunning 2017 bundesliga.com Goal of the Year to understand he has so much more in his locker than a battering ram.
Watch: Sebastien Haller's 2017 Goal of the Year winner
Blessed with a good touch for a small man never mind a big one, the 24-year-old — like Jovic — already made a positive impression last season. "Things are very tight in the Bundesliga and you need a matchwinner, and he is one of those," said Jan Age Fjortoft, a skilfull rangy front man for Frankfurt — sound familiar? — between 1998 and 2001, after catching a glimpse of Haller's qualities. "I'm sure he'll get a lot more goals."
Haller: 'I'm a team player'
The former Norway international has been proved right. After nine last term, Haller already has eight this — league-wide, only his teammate Jovic has more. Throw in the five assists that put him second only to Borussia Dortmund's Jadon Sancho in that category, and Haller has had a hand in more goals than any other Bundesliga player this season, making or taking one every 63 minutes on the pitch!
"I always want to score goals," said Haller, who played alongside Alassane Plea at French side Auxerre during the 2013/14 season as both tried — and at the time failed — to make a name for themselves. "But I'm a team player first and foremost."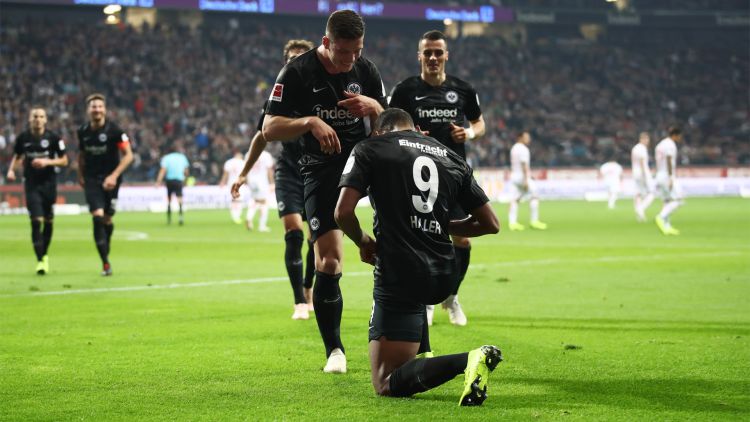 The step up Jovic and Haller have made this term has been well-timed with Rebic only now starting to hit the heights he scaled last season. It is no surprise after the Croatia international's exertions in Russia last summer, he arrived back in Germany with a light spirit but heavy legs, and an early season calf injury indicated those weary limbs required more of a rest.
Batteries recharged and tank refuelled, Rebic has slipped back into the groove. He has been involved in six goals — scoring four — in seven Bundesliga appearances this season, and is already just two shy of his 2017/18 goal tally which came from 25 league matches.
Hummels praise
More than his contribution that can be measured in statistics, Rebic also seems to provide Frankfurt with something less tangible but even more crucial when he is on the pitch: a winning habit. Since the start of last season, 16 of his 26 league starts (62 percent) have ended in victory, while he is unbeaten — with four wins and a draw — in five this term. When you factor in that in 19 games without him, that ratio plummets to 12 percent (4 wins), he becomes the living definition of 'talismanic'
"Rebic is like an arrow," said a mightily impressed Mats Hummels, who should know a top-drawer forward when he sees one, after facing the Frankfurt man with Bayern Munich last season. "He took a good two, three metres out of me. He shot away from all of us at one time or another."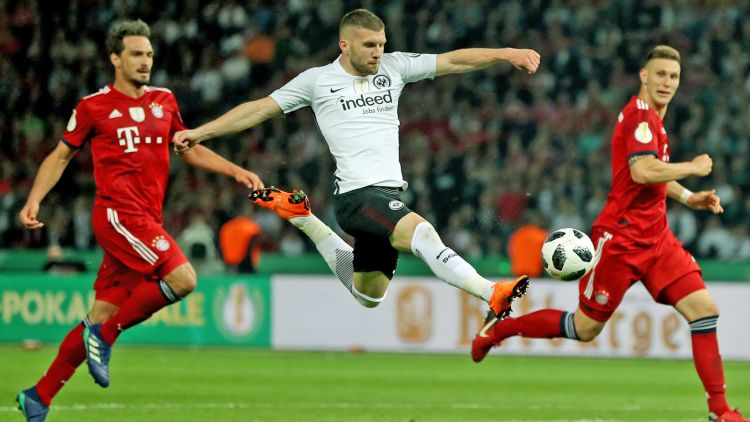 Rebic's pace, Haller's presence and Jovic's prolificness have made Frankfurt a fearsome force, and — here comes the bad news Bundesliga defenders — their "chemistry" is only going to become a more potent element in the Eagles' armory.
Haller: 'We try to have fun'
For those quick to point out they are overly reliant on the trio for goals, you would be well advised to simmer down: their stunning stats have mostly been achieved when just two of the three have been on the pitch. That means that even if the curse of injury or a dip in form strikes, Frankfurt will be just as menacing.
In fact, the trio have actually only played together from kick-off twice — in the Matchday 10 defeat of Stuttgart and the win against Schalke on Matchday 11 — contributing to five of the six goals in the brace of 3-0 victories.
"We just try to have fun playing together, to put a lot of pressure on our opponents and have fun," Haller told bundesliga.com when explaining the Frankfurt formula. "I think we mustn't put pressure on ourselves, just work for the group, for our teammates and it works."
Click here for more Eintracht Frankfurt news and features!
Ian Holyman
消息参考来源:

BUNDESLIGA

严禁商业机构或公司转载,违者必究;球迷转载请注明来源"懂球帝"